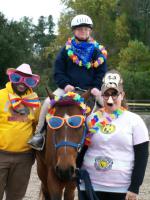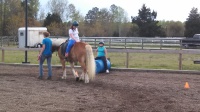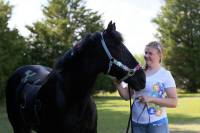 Most of our therapeutic horseback riding lessons are individual 30 minute weekly  lessons. TR can enhance physical, emotional, social, cognitive, behavioral and educational skills for people who have disabilities. We use a team approach in order to meet the goals of each individual rider under the guidance of PATHIntl registered riding instructor. Download brochure
here
Our Ground School program offers a variety of activities that range from learning equine first aid to practicing more advanced skills such as round penning. Children can earn badges for their achievements. Ground school is offered when there are contraindications for riding or when a participant wants to lessen their fear of horses before riding. Both our Equine Services for Heroes group and our Healing with Horses Cancer Survivors group are Ground School programs.

We have 2 boys and 2 girls Interactive Vaulting groups. Interactive Vaulting is an activity in which the students perform movements on and around the horse. These movements can be very simple such as sitting without holding onto the surcingle or a more elaborate compulsory move such as kneeling or standing on the horse. It all depends on the individual needs of the vaulter. A typical lesson is 90 minutes long. Download brochure
here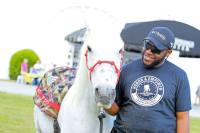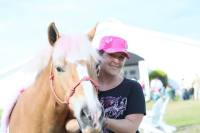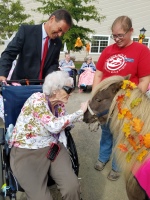 Equine Services for Heroes
Healing with Horses: Cancer Survivors Group
This program was featured on the front page of The Daily Reflector and on WITN with Lynnette Taylor.  We offer ground school and therapeutic riding lessons to veterans. No horse experience is required! Please call the barn at 252-752-0153 to schedule a barn tour.

In the fall 2015 we introduced a new partnership with Vidant and offering a Healing with Horses Cancer Survivors group . Participants will take part in an hour long horse activity followed by an hour of group therapy facilitated by Jennifer Higgins, Vidant's oncology social worker. This program is equally funded by Vidant and Rocking Horse Ranch and will have a small fee of $25 for the entire session for participants.

Please call 252-752-0153 to schedule a barn tour if interested in this program.

Sammy and Gunner are the newest members of our herd. They have enjoyed visiting PCC, The Golden LivingCenter, and ECU Rehab and Wellness in Greenville among others. When the small but big hearted minis come around the corner, they catch everyone's eyes and capture hearts. Horses are very emotional animals that read what is going on around them and help in the best way they know how; just being there. With mini horses being about the size of a Great Dane, they are easy to navigate through hallways, in elevators, up /down stairs and into classrooms /patient's rooms. We look forward to introducing our amazing minis to you!

Please call 252-752-0153 to schedule a visit from the minis.